Release Notes
Added Paste command in edit External Value
Added View command in edit External Value
Fixed Transfer Function calculation
Added new FFT algorthmic
Fixed FAh calculation with cut input
Fixed Range node move (Absolute)
Fixed FormInfoZone in xCoordinate nodes
Version 2.0.8223.29939
General review
Added Calculation time taken analysis
Added Time Input Mode
Added Vertical Line
Fixed Speed Up Mouseview
Version 2.0.8189.19205
General review
Added new tools algorithms to edit object geometries
Added Draw Group Command: Line, Polyline, Polygon
Added Vertex Group Command: Add, Insert, Delete, Move, Merge
Added Explode Command
Added Intersect Command
Added Join Command
Added Surface Command
Version 2.0.8128.33656
General review
Added new discretization algorithm
Important: Projects saved with this version are not compatible with previous versions
Fixed Calculate PRN for each Earthquake
Version 2.0.8009.21355
Fixed Calculate average value in Trend Material
Added Calculate PRN for each Earthquake
Fixed Trasparent plot
Version 2.0.7979.31450
Fixed View record Earthquake
Fixed Calculate average value in Trend Material
Fixed Interpolate Vertex Rows/Column
Fixed UndoRedo mark
Version 2.0.7943.27199
Fixed calculate vertical component
Fized delete SoilCurve
Version 2.0.7915.27506
Fixed calculate static stress
Fixed database Soil Curve
Added export input
Fixed baseline correction
Fixed infoZone
Version 2.0.7862.19410
Added record view earthquake
Added import Ascii file slice
Fixed import DXF
Fixed clone materials
Fixed random parameters
Added Newmark's Sliding Block
Version 2.0.7813.34239
General review
Fixed discretize grid
Version 2.0.7767.32354
Added Custom formula wave Vs
Added depth value in custom formula
Fixed centroid calculation
Added Slice lines calculus
Fixed Vs gradient depth
Fixed Order Earthquake list
Version 2.0.7732.22818
Fixed AutoRun in parameters distribution mode
Fixed Earthquake setup
Version 2.0.7715.16530
Fixed sorting accelerazion number in output (RECALCULATION IS RECOMMENDED)
Fixed discretizatin out-side mesh
Added Row and Column command in edit block
Added Isolate zone Command
Added import Spline from DXF Autocad file
Fixed discretization algorithm for very large dimension ratio zones
Version 2.0.7698.16266
Fixed Baseline Correction
Fixed Tools Shape mesh
Added Output History Plot
Added Linear Gradient distribution
Added LogNormal distribution
Fixed error in Info Zone
Fixed error in Cancel Earthquake
Added partial export calculation
Version 2.0.7660.36855
Fixed simulation command
Fixed AutoSave command
Fixed calculation static effective stress
Fixed calculation random Shear Modulus
Added Adjust area
Fixed select Range node
Version 2.0.7631.33776
IMPORTANT: For analysis performed with previous versions, View Data is not recognized and group Line is not activated in Edit chart, the graph must be regenerated.
Added Baseline Correction (Cubic Polynolmial)
Added import External Values
Fixed multi earthquakes loading
Added statistic calculation: Average, Median and Mode
Added max/min and num. of points FFT
Fixed the calculation Fourier transform
Added smoothing (5 bit) in Transfer Function calculation
Fixed the calculation max value FFT to search in Filter Result
Fixed problem in refresh chart title
Version 2.0.7608.31773
New release V2.0
Auto Grid Generation
Adjust Grid
MultiRun
AutoRun
Random Properties
Random Soil Curve
Average Results
Filter Earthquakes
Filter Results
...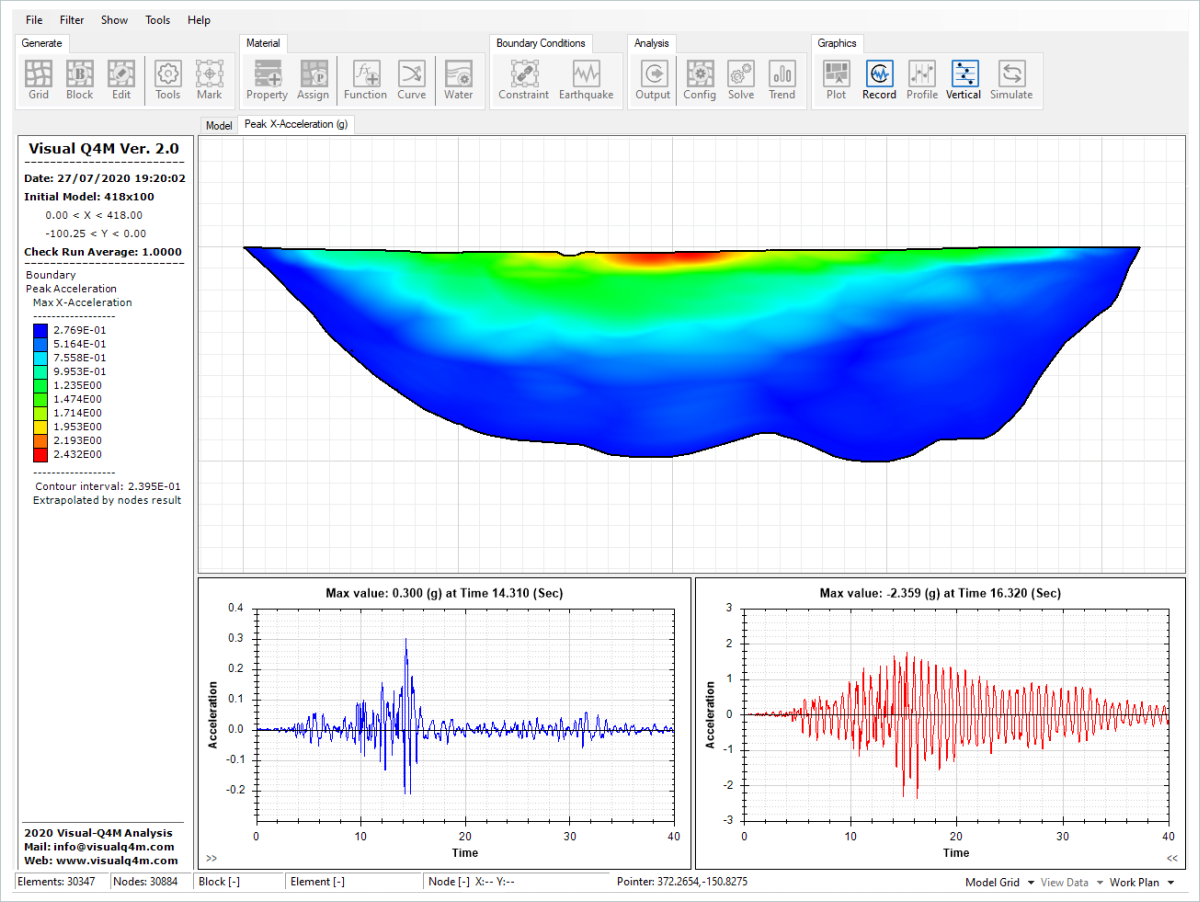 General Update
Fixed config
Fixed import Earthquake
Fixed Visual Users Guide
Fixed import DXF file
Fixed Calculate PGD input file